On the passenger list's page nr 2 we get some information about the final destination. Their contact in Iowa was brother in law Chris Mikkelsen in Battle Creek, Iowa. At Pouline it is said that Chris is her uncle (not true). They had paid the tickets themselves.
Jens Peter is 6 feet and 9 inches high, has blond hair and blue eyes. Their places of birth are unreadable, but we know the places. You should have 50 dollars but very few had that. At the first voyage this family had 50 dollars but at the delayed voyage they had 16 dollars. It's a bit difficult to read but if it is so, the stay in Liverpool and the funeral of Marie cost 34 dollar.
They arrived at New York 27 Sept 1910. They then travelled to Iowa. The original trip only went to Boston. So, now they should find the route and pay for the tickets to Battle Creek. Since there was no mobile phones and the postal service was slow Chris might not know why they came later than expected.




Life in Iowa


When you arrive in October to an agricultural region, it's good to get work and housing at his wife's brother. Jens Peter becomes very quickly convinced that he wants to be a US citizen. And he got his own farm quickly. He didn't own his farm but rented it.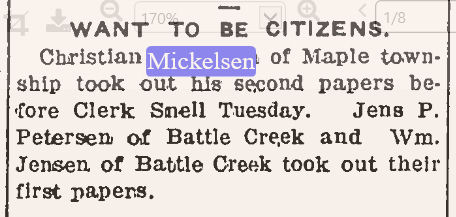 15 Feb 1911 this note was in the newspaper Ida County Pioneer. Jens Peter took out his first paper. Christian Mickelsen was his brother in law and Wm. Jensen was his sister's husband. Wm. Jensen and Marie Magdalene moved from Racine to Battle Creek in 1911.

Only Censuses can tell us about country life, no address book as in the big cities. Then it's great that the little local newspaper is available online.

In Iowa we are so lucky that the state made their own census in 1915: